---
| | |
| --- | --- |
| CIA Inspector General Extends Investigation of CIA-Contra Crack Cocaine Allegations; Senate Holds Intelligence Committee Hearing; Rep. Waters Mobilizes Anger Over the Allegations | November 1996 |
CIA Inspector General Frederick Hitz said he needs more than the 60 days originally proposed to do a "thorough and complete" investigation into allegations of links between the CIA and drug trafficking by Nicaraguans supporting the contra rebels during the 1980s. San Jose Mercury News articles in August reported that CIA-backed contras played a leading role in introducing crack cocaine into African-American communities to raise money to fight Nicaragua's left-wing Sandinista government. In September, CIA Director John M. Deutch denied the allegations and ordered Hitz to complete an investigation of the charges within two months (Walter Pincus, "Internal Investigator Extends His Probe Of CIA-Contra Crack Cocaine Allegations," Washington Post, October 12, 1996, p. A6; "CIA Allegedly Linked to Crack Epidemic in Los Angeles, CIA Director Orders Investigation; African-American Leaders Outraged; DEA Agent Supports Charges; Charges Minimized," NewsBriefs, October 1996).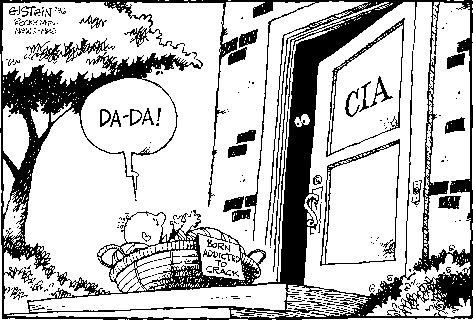 Used with permission of Ed Stein, courtesy of the Rocky Mountain News.
A CIA spokesman said, "Hitz said he was working as fast as he can, but he doesn't want to be tied to a date." Hitz has been delayed because he must review a vast amount of CIA reports on drug trafficking in the 1980s and records of the Iran-contra investigations by Congress, according to the spokesman. Considerable documentation exists because of a December 1981 executive order signed by President Reagan. The order authorized the CIA to collect incidental information on possible drug violations by foreigners and Americans, in contrast to the bar on the CIA from gathering information on U.S. citizens.
Senate Select Committee on Intelligence Conducts Inquiry
On October 23, the Senate Select Committee on Intelligence, chaired by Senator Arlen Specter (R-PA), heard testimony from CIA Inspector General Frederick Hitz and Justice Department Inspector General Michael R. Bromwich. Hitz testified that there was no evidence so far that the agency played a role in introducing crack into the U.S., but added that it might take months to fully examine records regarding the controversial relationship between the CIA and Nicaraguan contras during the 1980s. "We do not have much substantive insight at this point," said Hitz. Senator Specter sought but did not get an estimate of how long it would take Hitz and Bromwich to complete their investigations. An emotionally charged audience filled the hearing room and often jeered or applauded at testimony. "While some may choose not to believe findings that do not correspond to their perceptions, we will present the unvarnished truth as we find it," said Hitz (Associated Press, "C.I.A. Official Sees No Evidence of Crack Role," New York Times, October 24, 1996, p. A17).
A key witness was former Senate counsel Jack A. Blum, who worked on a foreign relations subcommittee that concluded in 1988 that the Reagan administration turned a blind eye to drug trafficking by Nicaraguan rebels. Blum said his subcommittee's investigation, chaired by Senator John Kerry (D-MA), found that CIA employees were not involved in the drug trade. But he added, "The United States government ignored the drug problem and subverted law enforcement to prevent embarrassment and to reward our allies in the contra war." Blum accused the Justice Department of blocking the Kerry subcommittee's investigation and intervening in court cases "to help people who helped in the covert wars." After the hearing, Specter said that the next Congress may have to convene a select congressional committee to handle the full scope of an inquiry into the allegations (Walter Pincus, "Ex-Prober: CIA Ignored Drug Issue," Washington Post, October 24, 1996, p. A18).
Rep. Waters Mobilizes Response to Anger Over the Allegations
U.S. Representative Maxine Waters (D-CA), who called for investigations after the CIA-Contra drug allegations surfaced, has been appearing on network television, speaking at college campuses and doing radio interviews to mobilize a constructive response to the anger over the allegations and to build a grass-roots movement to "lead a real war on drugs." Waters, 58, said if the anger is mobilized, federal authorities can be held more accountable for the drug crisis and more money can be secured in the next Congress for drug interdiction, treatment and prevention programs. The California representative has also been investigating the charges herself, including following tips from calls to her office. Waters, who spoke at the October 23 congressional committee inquiry, represents South-Central Los Angeles, where the Mercury News alleged CIA-backed Nicaraguan contras started the crack-cocaine trade (Kevin Merida, "Lawmaker Using CIA Controversy to Marshall Forces," Washington Post, October 25, 1996, p. A16).
If you have substantive information about any CIA connection to drug trafficking, contact Joseph Lee at Rep. Waters' office, (213) 757-8900.