---
| | |
| --- | --- |
| No Civil Rights Charges in Hernandez Border Shooting, Says Justice Department | February 1998 |
A federal grand jury in Pecos, Texas will not bring criminal civil rights charges against the U.S. Marine who fatally shot an 18-year-old U.S. citizen in Texas last May, according to U.S. Rep. Lamar Smith (R-TX) (Jim O'Connell, "Panel clears Marine in border killing," Houston Chronicle, February 26, 1998, p. 1A; Thaddeus Herrick, "Lawyer Rips Decision On Border Shooting," Houston Chronicle, February 27, 1998; Associated Press, "No U.S. Charges Planned In Texas Border Killing," February 27, 1998, p. A12; Associated Press, "Marine won't face civil rights charges," Washington Times, February 27, 1998, p. A5).
Esequiel Hernandez was killed by a four-man anti-drug Marine patrol using M-16s near his home in the border town of Redford, Texas. Hernandez was herding goats, and inexplicably fired his antique .22 caliber rifle in the direction of the fully camouflaged soldiers who were hiding hundreds of yards away (see "18-Year-Old Texan, Herding Goats, Killed by U.S. Marine Corps Anti-Drug Patrol," NewsBriefs, July 1997).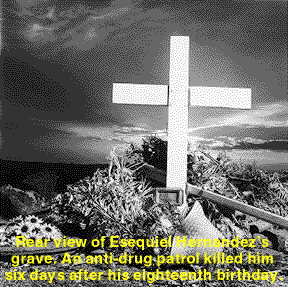 In August 1997, a Presidio County grand jury decided not to bring criminal charges against Cpl. Clemente Banuelos, the Marine who fired the fatal shot (see "Neighbors of Texan Killed by Military Anti-Drug Patrol Petition for Demilitarization of Border; Pentagon Pulls Anti-Drug Troops From Border; State Grand Jury Decides Not to Indict Marine," NewsBriefs, August 1997).
Hernandez's death sparked a debate over the wisdom of using soldiers in domestic law enforcement. The incident led the Pentagon to suspend anti-drug patrols on the U.S.-Mexico border. (Kevin Zeese, "A Literal War on Drugs," San Diego Union Tribune, January 30, 1998.)
Still pending are a civil claim brought by Hernandez's family, and a Marine investigation. Rep. Smith, chairman of the House Judiciary immigration subcommittee, said that his committee will make an inquiry into the incident. "The shooting death of Esequiel Hernandez remains troubling," said Smith. "The public has a right to know who is responsible for this death. But no one is being held accountable."
Bill Weinacht, a Pecos lawyer who represented the Hernandez family, said the Justice Department has a conflict of interest in case because it oversees the Border Patrol, which supervised the Marine patrol that killed Hernandez. "There is nothing to indicate that a charge was ever presented to the grand jury for a vote and the Hernandez family was not called to testify.
House Judiciary Immigration and Claims Subcommittee - B-370B RHOB, Washington, DC 20515, Tel: (202) 225-5727, Fax: (202) 225-3672.
U.S. Dept. of Justice, Civil Rights Division - 950 Pennsylvania Ave., NW, Washington, DC 20530, Tel: (202) 514-2151, Fax: (202) 514-0293.