---
| | |
| --- | --- |
| THE HERNANDEZ KILLING | August 1997 |
Neighbors of Texan Killed by Military Anti-Drug Patrol Petition for Demilitarization of Border; Pentagon Pulls Anti-Drug Troops From Border; State Grand Jury Decides Not to Indict Marine
During July 15-17, a delegation of citizens from Redford, Texas, where 18-year-old Esequiel Hernandez, Jr. was shot and killed by a Marine Corps anti-drug patrol, visited Washington D.C. to meet with policy makers and hold a press conference. The American Friends Service Committee (AFSC) and Common Sense for Drug Policy assisted the delegation in their travel to the nation's capital (Michelle Mittelstadt, "Shooting victim's sister, group seek to demilitarize border," Houston Chronicle, July 15, 1997, p. 16A).
During their visit, the Redford Citizens Committee for Justice (RCCJ) delegation met with the Director of the Office of National Drug Control Policy, Barry McCaffrey; Assistant Secretary of Defense H. Allen Holmes; Immigration and Naturalization Service Commissioner Doris Meissner; U.S. Rep. James Traficant (D-OH); U.S. Rep. Lamar Smith (R-TX); U.S. Rep. Henry Bonilla (R-TX); ranking members of the House Committee on National Security; and the Congressional Hispanic Caucus. On July 17, the RCCJ delegation held a press conference to report on policy makers' responses to their concerns, and later that afternoon they met with representatives of non-profit organizations in the Washington area. The press conference at the National Press Club was sponsored by the AFSC, Common Sense for Drug Policy, the Criminal Justice Policy Foundation and Communications Works. NewsBriefs staff attended the press conference and the afternoon meeting.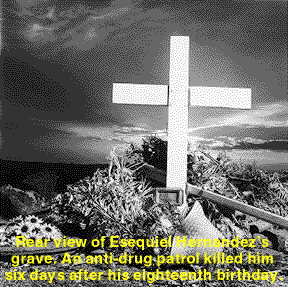 At the press conference, RCCJ delegate Father Melvin La Follette said the delegation met one of its primary objectives: "to show them by presenting our live bodies, that actual flesh-and-blood human beings live on the border and are affected by policy decisions that are made in Washington." RCCJ delegate Enrique Madrid said he wanted policy makers to understand that people who live on the U.S.-Mexico border are not all "illegal aliens, terrorists and drug smugglers." Madrid said, "We are not enemies of the United States. We do not deserve to be treated like enemies" (Judy Wiessler, "Federal response satisfies border killing protesters," Houston Chronicle, July 18, 1997, p. 27A).
Rep. Lamar Smith told the delegation he "will sponsor congressional hearing in September regarding training, supervision and performance of border enforcement agencies, and deficiencies in these areas that contributed to the death of Esequiel Hernandez," according to the AFSC media briefing packet. "The idea here is not to determine any criminal guilt. It's to see if we can't find out what went wrong," Smith said in an interview. He said he plans to call as witnesses "a number of Administration officials," focusing on "actions, training and supervision" (Judy Wiessler, "House panel plans probe of S. Texas border killing," Houston Chronicle, July 17, 1997, p. 32A).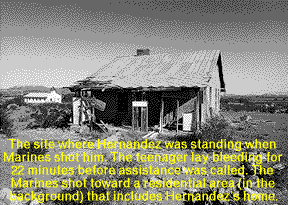 One month later on August 13, Rep. Smith accused the Justice Department of obstructing his investigation into the incident. "The [Justice] Department has been prepared to delay and obstruct congressional oversight by any means available, with the avoidance of public embarrassment and legal liability as its only guiding stars," Smith wrote U.S. Attorney General Janet Reno. In his letter, Smith said the military has been much more cooperative than the Justice Department. Smith said he wants to resolve the issue as soon as possible so that the military can resume its role in anti-drug assistance on the border (Bennett Roth, "Justice `obstructed' inquiry, says Texan," Houston Chronicle, August 14, 1997, p. A1; David Jackson, "Congressman says border slaying investigation being hindered," Dallas Morning News, August 14, 1997).
Rep. Traficant, who sponsored an amendment that passed the House to add 10,000 more border patrol agents to the U.S.-Mexico border, told the delegation he would not withdraw his amendment. However, he was sympathetic to the delegation's call for greater accountability by Border Patrol. Although they "agreed to disagree," Father La Follette said he was "excited" by the candid meeting with Traficant, and appreciated his not "riding the fence." Traficant acknowledged that his amendment to the Department of Defense (DOD) Authorization Act will not become law this year.
At the press conference, the RCCJ delegation reported that Rep. Bonilla, who represents the very large district that includes Redford, expressed opposition to the Traficant amendment, and said he supports strengthening the system for lodging complaints against Border Patrol. At the House Committee on National Security, staff for Rep. Floyd Spence (R-SC), ranking member of the committee, and Rep. Ron Dellums (D-CA), the ranking minority member, agreed that the Traficant amendment would be deleted from the DOD Authorization Act. Allen Holmes told the delegation that the DOD and the Clinton Administration oppose the Traficant Amendment, and that the DOD is reviewing the effectiveness of the military role on the border.
Regarding his meeting with the Redford group, "drug czar" McCaffrey said the Government should "flat-out guarantee" a thorough review of the military's role in border anti-drug efforts. "I told these people ... we will investigate," said McCaffrey. "We view [the Hernandez shooting] as a tragedy and we will try to ensure that this kind of incident doesn't happen again." McCaffrey, who has expressed support for "demilitarizing" the border while increasing the presence of Border Patrol, requested suggestions from the delegation regarding options for drug interdiction at the border (William E. Clayton Jr., "Clinton advisor vows review of border tragedy," Houston Chronicle, July 16, 1997, p. 21A).
MILITARY OFFICIALS MANDATE NEW TRAINING, REMOVE ANTI-DRUG TROOPS FROM THE U.S.-MEXICO BORDER
After the Redford incident military officials mandated new training for anti-drug forces. The new training is "primarily aimed at the proportional use of force, trying to clarify that although deadly force might be authorized, it might not be necessary," said Air Force Col. Henry Hungerbeeler, chief of staff of Joint Task Force-6. "The last thing we want to do is have the American people afraid of us," he said (John W. Gonzalez, "Border shooting spurs new military training," Houston Chronicle, July 13, 1997, p. 1A).
On July 29, Pentagon officials announced that all U.S. troops involved in anti-drug operations on the U.S.-Mexico border have been pulled from the patrol work indefinitely. Officials said the move was prompted by the Redford shooting incident. "The entire policy is now under review," said Pentagon spokesperson Kenneth Bacon, including "whether it's appropriate for troops to be involved in border patrol activities," and if so, "what are the proper operating procedures for them? ... And another question is, do they have adequate legal protection?" Kevin Zeese, president of Common Sense for Drug Policy, called the withdrawal of all 240 military personnel along the 2,000-mile border "a good first step." McCaffrey called it "a prudent move" (Thomas E. Ricks, "Pentagon Lifts the Troops Patrolling Mexico Border After Killing of Shepard," Wall Street Journal, July 29, 1997, p. B6; Sue Anne Pressley, "Troops Pulled Away From Anti-Drug Patrols," Washington Post, July 30, 1997, p. A16; William E. Clayton Jr., "Pentagon ends patrol on border," Houston Chronicle, July 30, 1997, p. A1; Martin Kasindorf, "Pentagon pulls troops off drug patrols," USA Today, July 30, 1997, p. 3A; Sam Howe Verhovek, "Pentagon Halts Drug Patrols After Border Killing," New York Times, July 31, 1997, p. A1).
STATE GRAND JURY INVESTIGATES INCIDENT, NO CHARGES TO BE FILED
Hernandez was shot and killed on May 20 while herding his family's goats near his home. The Marines who stalked and killed Hernandez claim Hernandez was about to fire on them a third time when they fired in self-defense. Residents of Redford believe Hernandez, who carried an antique .22 caliber rifle to ward off wild animals and for target practice, never knew he was shooting at the well-camouflaged Marines. U.S. civilians have unknowingly fired at and wounded military anti-drug personnel in other incidents, but the soldiers realized they were attacked unintentionally and did not return fire, which they are legally allowed to do. (For more background information, see "18-Year-Old Texan, Herding Goats, Killed by U.S. Marine Corps Anti-Drug Patrol ... ," NewsBriefs, July 1997.)
A state grand jury investigated the incident, and the U.S. Justice Department hired civilian lawyers to represent the four Marines, including Cpl. Clemente Banuelos, the leader of the patrol, who fired the fatal shot. In a letter sent to Presidio County District Attorney Albert Valadez, who conducted the grand jury, members of RCCJ said they hoped Banuelos would not be made a scapegoat for larger policy failures. "This community has been grievously wounded by the actions of Cpl. Banuelos and his team," the letter said. "Nevertheless, the community feels that there are others in the chain of command ... who should be sought out and made to admit responsibility for the sorry desecration of traditional American values."
On August 14, a Presidio County grand jury decided not to bring criminal charges against Banuelos in the shooting of Hernandez. "The grand jury believes that Corporal Banuelos was acting reasonably in defense of a third person when he fired the fatal shot," said Valadez. Banuelos maintains that he shot Hernandez to protect his comrade, Corporal James M. Blood, 22. After giving his testimony, Corporal Blood said, "[Banuelos] saved my life. I don't think he should be charged." The three Marines who were on the patrol with Banuelos during the shooting incident testified under immunity from prosecution at the grand jury hearing (Associated Press, "3 Marines get immunity in border shooting case," Houston Chronicle, August 13, 1997, p. 30A; David Mclemore, "Marine avoids indictment," Dallas Morning News, August 15, 1997; Thaddeus Herrick, "Marine is cleared in border shooting," Houston Chronicle, August 15, 1997, p. 1A; Sam Howe Verhovek, "No Charges Against Marine in Border Killing," New York Times, August 15, 1997, p. A14).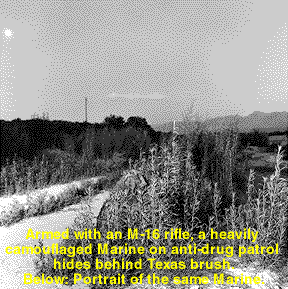 Valadez said the grand jury believed that Hernandez fired first and had raised his gun at the moment he was shot, but did not conclude that he shot at the Marines intentionally. "The grand jury also believed Cpl. Banuelos and the other Marines were following the rules of engagement while following [Hernandez]," said Valadez. Banuelos' lawyer, Jack Zimmerman, said that in the eyes of the Marines, Hernandez fit the profile of a drug trafficker.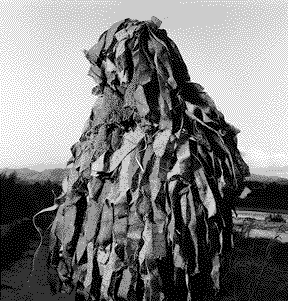 Family and friends of Hernandez objected to the fact that the grand jury included a former Border Patrol agent, the Border Patrol assistant chief in Marfa, and two customs inspectors. "This would appear to be such a blatant conflict of interest it's unimaginable," said Father Mel La Follette. La Follette said Redford Citizens Committee for Justice would push for a new state grand jury to consider the evidence, and a Federal grand jury to consider possible civil rights violations.
Federal prosecutors said on August 15 that they are investigating possible civil rights violations in the incident. "[To say] what may come out of that investigation is speculation [at this time] ... but we are looking into the matter," said Daryl Fields, a spokesperson for the U.S. attorney's office in San Antonio. Presidio County officials have begun turning over evidence to the FBI (Bruce Nichols and David Mclemore, "Civil rights reviewed in border case," Dallas Morning News, August 16, 1997).
U.S Rep. James A. Traficant - 2446 RHOB, Washington, DC 20515, Tel: (202) 225-5261, E-mail: telljim@hr.house.gov.
U.S. Rep. Lamar Smith - 2231 RHOB, Washington, DC 20515, Tel: (202) 225-4236, E-mail: lamars@mail.house.gov.
American Friends Service Committee - 1501 Cherry St., Philadelphia, PA 19102-1479, Tel: (215) 241-7060, Fax: (215) 241-7275, afsc@afsc.org, Web: http://www.afsc.org.
Common Sense for Drug Policy - Kevin Zeese, Tel: (703) 354-5694, Fax: (703) 354-5695, E-mail: kevzeese@laser.net.